Liteharbor Lighting Hotel Bathroom Cabinet LED Mirror
A lighting mirror cabinet with aluminum body is installed on the wall for daily goods storage. A mirror cabinet door is arranged at the front of the storage cabinet through hinges, very convenient for our daily makeup or shaving. The aluminum body is installed on the wall with wall mount design or wall recessed design, depends on your house structure or style favorite. Normally will have the top LED lighting or fluorescent light, to match your needs , some will be the double sided fluorescent light on the two sides of the cabinet .Even for some special design decoration , will have top and bottom ambient light . That will be most useful for vanity using.
Liteharbor Lighting mirror storage cabinet with the aluminum body has the advantages that when the mirror storage cabinet is in use, the cabinet door can be horizontally placed, and when closing doors can be soft closing for safe and convenient use. When hanging, the cabinet door can serve as the mirror for daily use; the aluminum body can be the storage space for daily goods. Why not choose a mirror cabinet for perfectest choice for your bathroom?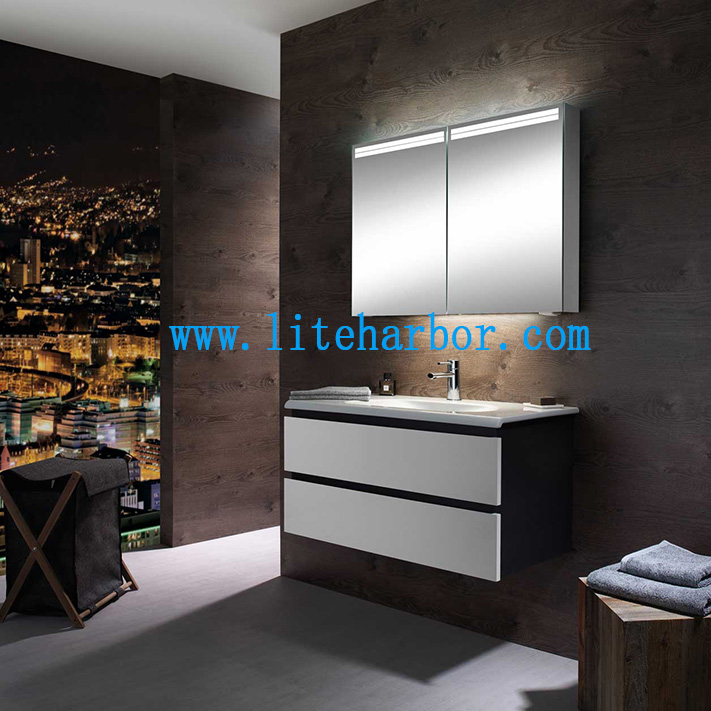 View more about Liteharbor mirror cabinet light, please click here http://www.liteharbormirror.com/mirror-light/10.html